At Hong Kong Sports Clinic, our experts provide only the best physiotherapy services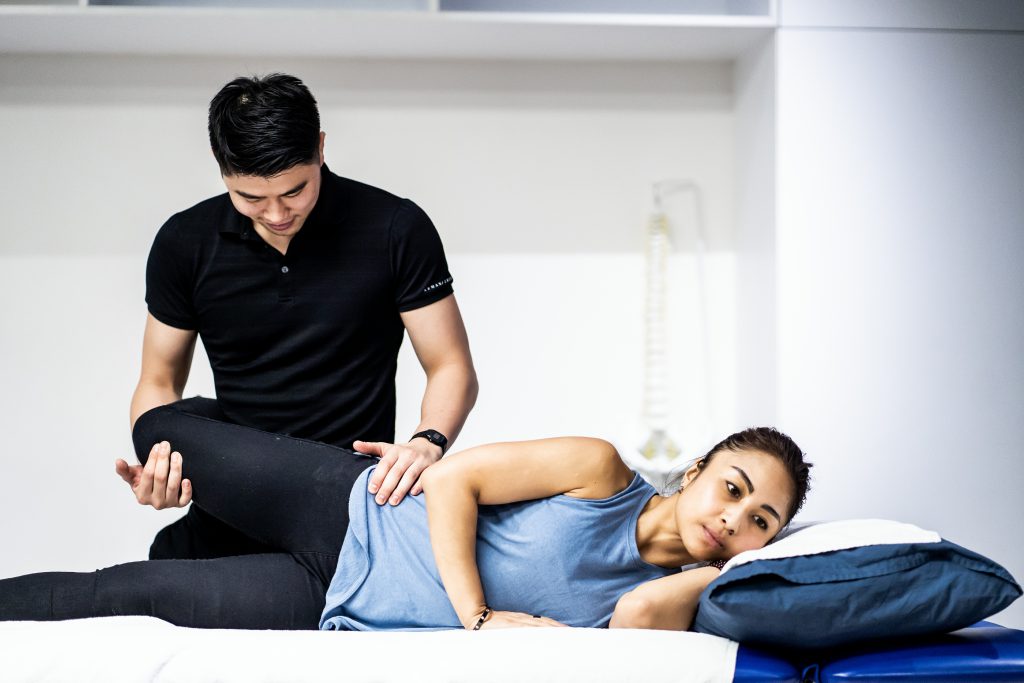 What is (good) physiotherapy?
A general definition of physiotherapy
According to the World Health Organization, Hong Kong physiotherapists should comply with the following:
Create rehabilitative programs that improve or restore movement ability, and treat or prevent physical challenges associated with injuries, diseases, and other impairments. 
Apply a broad range of physical therapies and techniques such as movement, ultrasound, heating, laser, and other techniques.
Develop and implement programs for screening and prevention of common physical ailments and disorders.
Please note that we do not agree with everything this definition encapsulates, as several techniques have been proven to not add noticeable benefits in many cases – like ultrasounds therapy, for example. At Hong Kong Sports Clinic, we rely on a hands-on approach to physiotherapy.
Different terms referring to physiotherapy
In Hong Kong, most people refer to this discipline by either physiotherapy or physical therapy. The practitioner is often called a physiotherapist, or simply physio. Kinesiotherapy is commonly used worldwide, but not so much in our city.
The concept of evidence-based physiotherapy
This worldwide used terminology does not have a strict definition. Collecting data from various part of the world, evidence-based physiotherapy can be defined as:
More information about physiotherapy in Hong Kong
The approach for good and modern physiotherapy is a combination of hands-on techniques and exercises, rather than medication and surgery.
Modern, best available physiotherapy should be evidence-based, with accurate clinical judgment and informed interpretation at its core.
We see ourselves as "guides" helping patients through their journey towards a pain-free life

At Hong Kong Sports Clinic, the physios trust in patients' active role in the rehabilitation process.
We guide through education, precise touch and movement assessments, as well as tailored exercise plans.
Why do patients choose to see physiotherapists at Hong Kong Sports Clinic
We are very proud and humbled by the number of positive feedback we get from our patients. We also put a lot of effort into making every session a meaningful experience.
We strive at learning and progressing
Science advances daily, and the amount of knowledge available in scientific literature pushes us to become better physiotherapists every day. We believe there is always room for improvement in manual therapies.
We want to offer the best personalized treatments available
We try to have a good balance of evidence-based and practice-based approaches. Mixing our hands-on experience with the latest scientific discoveries.
Our patients are not a number
Following-up on our patients is an essential part of our work. Monitoring symptoms progress, checking exercises diligence, or simply answering any questions and worries the patients may have. We will always take the time to get back to you.
We believe in active treatments
A good Hong Kong physiotherapist should encourage patients to take charge and responsibility for their recovery. The on-table part of the treatments is "passive". It aims at reducing symptoms and controlling the pain level. The prescribed tailored exercise plan aims at helping to work at the root cause of the problem. It is up to each patient to be as diligent as possible and practice the exercises at home, or in a gym environment if required. We want our patients to feel responsible and in control of the improvements, while guiding and supporting them the best we can.
Our front desk staff works hard for patients' satisfaction
From keeping the clinic neat and tidy to guiding patients through the booking process, we have received much positive feedback about the clinic's front desk team. One of the patients' most praised featured is the option to contact and book us through Whatsapp.
Most frequently asked questions about the physiotherapy services at Hong Kong Sports Clinic
How to experiment with Hong Kong's high level of physiotherapy?
Contact us

Simply call our reception - 37092846 - for more information, or to book an appointment. You can also use the Whatsapp button on the bottom right corner of the page.
Feel free to ask any physical therapy related questions over the phone, or get send your question via this form below. Your message will be dispatched directly to our staff who will answer as soon as they can.
References
Bjorbækmo, W. and Mengshoel, A., 2016. "A touch of physiotherapy" — the significance and meaning of touch in the practice of physiotherapy. Physiotherapy Theory and Practice, 32(1), pp.10-19.
Kumar R, K., 2018. Physiotherapy-In the Modern Times-The Need vs Necessity. Examines in Physical Medicine & Rehabilitation, 1(4).
Physiopedia. 2020. Physiotherapy / Physical Therapy. [online] Available at: https://www.physio-pedia.com/Physiotherapy_/_Physical_Therapy
Veras, M., Kairy, D. and Paquet, N., 2016. What Is Evidence-Based Physiotherapy?. Physiotherapy Canada, 68(2), pp.95-96.
World Physiotherapy. 2020. Policy Statement: Description Of Physical Therapy. [online] Available at: <http://www.wcpt.org/policy/ps-descriptionPT#appendix_1>